Patients Won't Forget Their Recurring Appointments
Patients have several types of recurring treatments: Bi-annual teeth cleaning, annual physical, eye exams, etcetera. These are typically booked long-term, far in advance; hence, very easy to forget and book over. No one to blame here. From the practice's perspective, they're also too busy with other urgent tasks and current patients to manually call and remind old patients it's time to book that followup.
When it comes to the cost of patient recall, the numbers are unclear. It varies by specialty and volume. However, it is very clear that without a recalling process, former patients won't return or reactive, resulting in lost revenue and a struggle to keep full practice agendas.
Recalling patients nowadays...
Retrieving former patients in a manual way demands tons of time from a practice's staff. They must search through patient records and reach out through postcards, letters or multiple phone calls. Different sources mention that this process can take more than 10 hours per week and may end up costing the practice around $250 per month.
This is the status quo; but that doesn't mean it's an effective one.
Virtual assistants for medical practices are the next step in text reminders. By using artificial intelligence, this tech is able to figure out which patients need to be recalled and sends them a friendly text message offering to setup an overdue or followup appointment. The best part? Front desk doesn't have to lift a finger.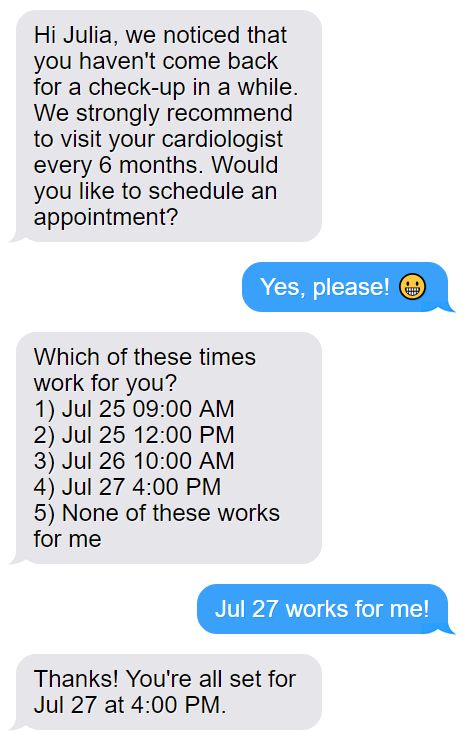 AI in healthcare...
This new solution is paving the way for innovative tech in the practice management process and in improving patient experience and accessibility. It will be interesting to measure the performance of this feature per specialty and the type of patient who is most engaged in this new approach.
Do you think a virtual assistant would turn around the current fragmented recare process? Which other practice management task could be improved through tech innovations? We want to hear your thoughts!