4 Easy Ways to Improve Your Bottom Line with your EHR
Let's cut to the chase—running a medical practice is expensive. Really expensive. And if you're reading this you know that. The good news is, there are four easy ways to quickly improve the bottom line of your practice. Doubt it? We'll prove it to you...
Book on-demand, anytime with online scheduling
Every day, millions of Americans search the internet to find a physician and nearly 80% of patients visit a practice's website before booking an appointment. By 2019, 64% of patients will make their doctor appointments online.
Yet only 20% of American medical practices offer online scheduling for patients.
Put another way, about 4 out of 5 patients use the internet to find a doctor, and 3 out of 5 patients book their appointments online, but only 1 in 5 doctors offer online scheduling.
Look at that disconnect!
When patients see you're offering online scheduling (something you can easily do with multiple EHRs) their physician search process will end and they'll book directly with you. Best of all, patients will be able to book with you 24/7, helping you earn revenue whether your practice doors are open or closed.
Streamline daily patient communication through an automated approach
Manually scheduling appointments (and reminding patients of those appointments) comes at a cost.
If the average medical practice handles 20 appointments a day, and each appointment requires five minutes on the phone, your front desk is losing almost two hours of productivity every day.
Those are valuable workhours that should be spent elsewhere!
Besides, your patients don't want inconvenient phone reminders; missed phone calls and voicemails are why 22% of patients skip their scheduled appointments.
Fortunately, your practice can use multiple Artificial Intelligence add-ons with it's EHR to automate the communication process with patients.
Holly by Nimblr.ai is a fantastic, AI-powered, communication tool that integrates with your EHR to deliver personalized appointment messages to patients, eliminating no-shows, mitigating last minute cancellations, and giving patients the freedom to reschedule with ease.
Here is an actual performance snapshot of a practice that implemented Holly: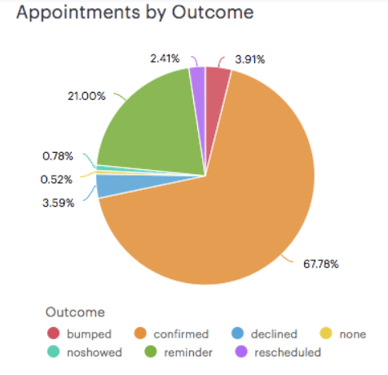 # of Appointments Rescheduled (bumps, no-shows, last minute cancellations): 12
Revenue Saved: 12 x $150 = $1800
Patient Engagement (response rate): 79%
Phone hours saved: 43 hours


Yes, you're reading that correctly. This practice generated an extra $1800 in appointment-based revenue and cut their front desk's workload by more than 25-hours in one month just by integrating Holly into their EHR.
Know your patient's habits when scheduling and follow up with them
When an appointment needs to be scheduled (or re-scheduled) it pays to know about your patients and their habits.
Using an EHR can help you build detailed patient profiles (age, gender, residence, etc.) that make it easier for your office to deliver a superior patient experience.
You can even use your EHR to follow up with patients after they visit your practice. You can ask for feedback on their visit and use that information to build an even more complete patient profile.
Best of all, AI-enabled tools like Holly can create weekly reports that analyze patient no-shows, canceled appointments, and rescheduled appointments.
The insights offered in these weekly patient reports make it easy for your practice to spot patient trends and make critical patient-experience improvements that ultimately drive more money into your practice.
Know in advance what information you need from your patients during their appointment.
Forget about calling your patients to tell them one small detail about their pending appointment, or to remind them to bring their insurance card. AI-enabled tools that work with EHR's (like Holly) can send appointment-specific messages (preoperative, follow-up, new patient, etc.) to patients so you and your staff don't have to.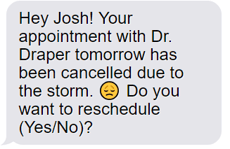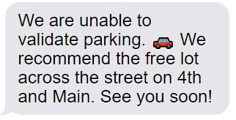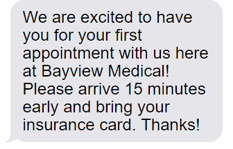 This kind of customized, appointment-specific messaging will help your practice stand apart in the eyes of patients, helping you keep existing business and increasing your referrals. That means more money for you, and more money for your practice.
And the more money you make, the better your bottom line will look.