Holly and the Messaging Revolution in Healthcare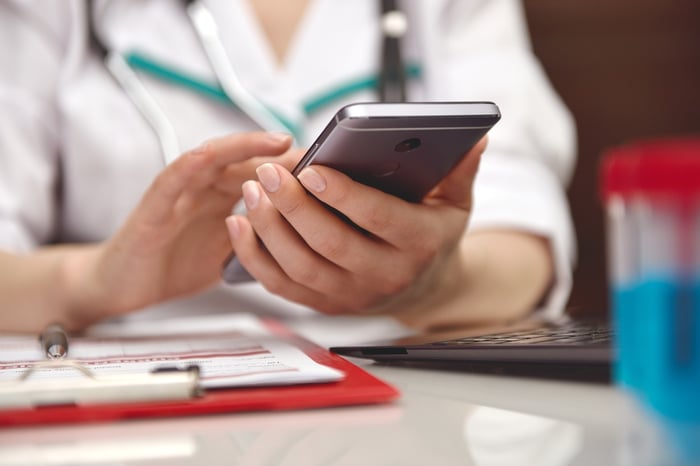 The messaging revolution also applies to the healthcare industry. Read more to know why.
In your personal time you've probably intuited how much easier it can be to communicate with people by messaging and texting than by phone calls. Maybe you've noticed a decrease in using the telephone to make plans. Perhaps you don't bother leaving voicemails anymore, or you don't check them — if it's urgent or quick, they'll just text me, you figure. Calling people might even, in some situations, feel like an imposition on their time or an intrusion on their space.

If any of these experiences rings a bell with you, you are not alone: mobile messaging is rapidly becoming our communication medium of choice.
You can bet this growing preference rings true with your patients and clients as well. Americans now send over 6 billion text messages a day. On average we exchange twice as many text messages per day as we make telephone calls. According to Pew Research, texting is the most widely and frequently used app on smartphones: 81% of American adult cell phone owners texted during a given month in 2013 and two years later, by 2015, that number had grown to 97%. Messaging platforms represent the fastest-growing communication medium among Millennials — so much so that the 4 biggest now have more combined daily users than the 4 biggest social networking apps.
If you're a health care provider, these are your patients: busy people who look forward to the limited time they get to spend with you. Especially if they are younger — which makes gaining their loyalty now even more important — they probably already schedule most of their social appointments by text. If you're a small outfit, your clients might have your cell phone number — or wish they did — for quick easy texting access or to make changes to their appointment schedule. But chances are instead that your front desk staff is spending an awful lot of time talking on the telephone with patients and clients about the topic of scheduling alone.
Nimblr is here to help you change that with Holly, our AI assistant. Holly is our Artificial Intelligence scheduler — an invisible app that chats with patients via SMS to confirm or reschedule appointments. Holly works behind the scenes on your existing calendaring platform, automatically updating your schedule as she goes. She texts your patients on the timeline and within the parameters you set for her, communicating with them in natural language. You simply invite Holly to your appointments and she takes it from there. Your patients get to appreciate the added convenience of text scheduling, while you and your front desk staff — not to mention your cell phone — are all freed up for other activities.
It makes sense that patients prefer texting over phone calls to set appointments. It allows them to spend more time with you, less time on the logistics of getting to you. Patients can respond and take care of a texted question in real time, right away. Or, if they need flexibility, they can ignore the text and respond later — inside or outside business hours. There is no looking up phone numbers. There is no waiting on hold. In fact, a 2012 study found that text was the highest rated of all contact methods for customer satisfaction — earning 90 out of 100 points, with phone earning 77 and Facebook earning 66 points out of 100. Scheduling/changing appointments and making/confirming reservations are among the activities that people with texting capability most prefer to do via text. And in the healthcare realm specifically, 70% of U.S. consumers report that they appreciate getting texts or emails from their providers.
By now it should be clear why your patients might prefer texting, but how does it benefit you? (Besides the obvious: that happy patients keep coming back.) First, texting is very efficient. 90% of all text messages are read in less than 3 minutes. The average person responds to a text within 90 seconds, as compared to 90 minutes to respond to emails. Text messages also have a far greater open rate (98% as compared to 20%) and response rate (45% to 6%) than do emails. Finally, as a point of comparison, a text chat can convert a $6-$20 phone call to an interaction that costs just pennies per session. In short, Holly can text your patients, keep them happy, and save you and you and your front desk an enormous amount of time and resources. Her efficiency can even mean the difference between filling those holes in your schedule and not — making the most of your valuable time and increasing your revenues and ROI.
According to Forrester Research, valuing your clients' time as well as your own is the best thing you can do for your business. Holly offers them real-time, anytime availability — without intrusions — and will shepherd your practice onto the winning front of the messaging revolution.
Please visit our website www.nimblr.ai to learn more.